Foolproof Applications
Sensing Current Through a Board Trace
Overcurrent protection makes circuits more foolproof. The high sensitivity and excellent repeatability of NVE AA-Series analog magnetic sensors make them well-suited for sensing current through a circuit-board trace.

This type of current sensing allows negligible insertion resistance, is usable over a wide current range, provides inherent electrical isolation, and can be used for AC or DC.

This video demonstrates:


The evaluation board featured in the video is available from NVE's Online Store.




You may know about NVE's unique family of Tunneling Magnetoresistance Angle Sensors. These parts offer precise angular position data in an ultraminiature package with extremely low power consumption.

Now, thanks to what started as a typographical error, we're introducing the world's first Angler Sensor: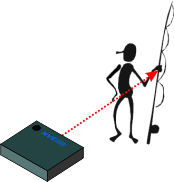 The Angler Sensor


Complementary Outputs
The new sensor has ANGLER and NOT ANGLER complementary outputs. The parts are ideal for determining who's a real angler and who's just telling fish stories. They've been qualified through extensive testing on NVE employees.

Availability
Parts are as available as they'll ever be—ahead of the Minnesota fishing season, which starts in May.